Exporting Huawei AppGallery Store Reviews in Excel can be a great way to analyze and track user feedback for your app. In this tutorial, we will guide you through the process of exporting reviews from Huawei AppGallery , creating an Excel sheet to organize and analyze the data.
Step 1: Find your App URL
 To begin with, you need to find the URL of the app in Huawei AppGallery store for which you want to export reviews. You can simply search for the app in the AppGallery and open its page.
💡
https://appgallery.huawei.com/#/app/C111111111
Step 2: Copy / Paste Browser URL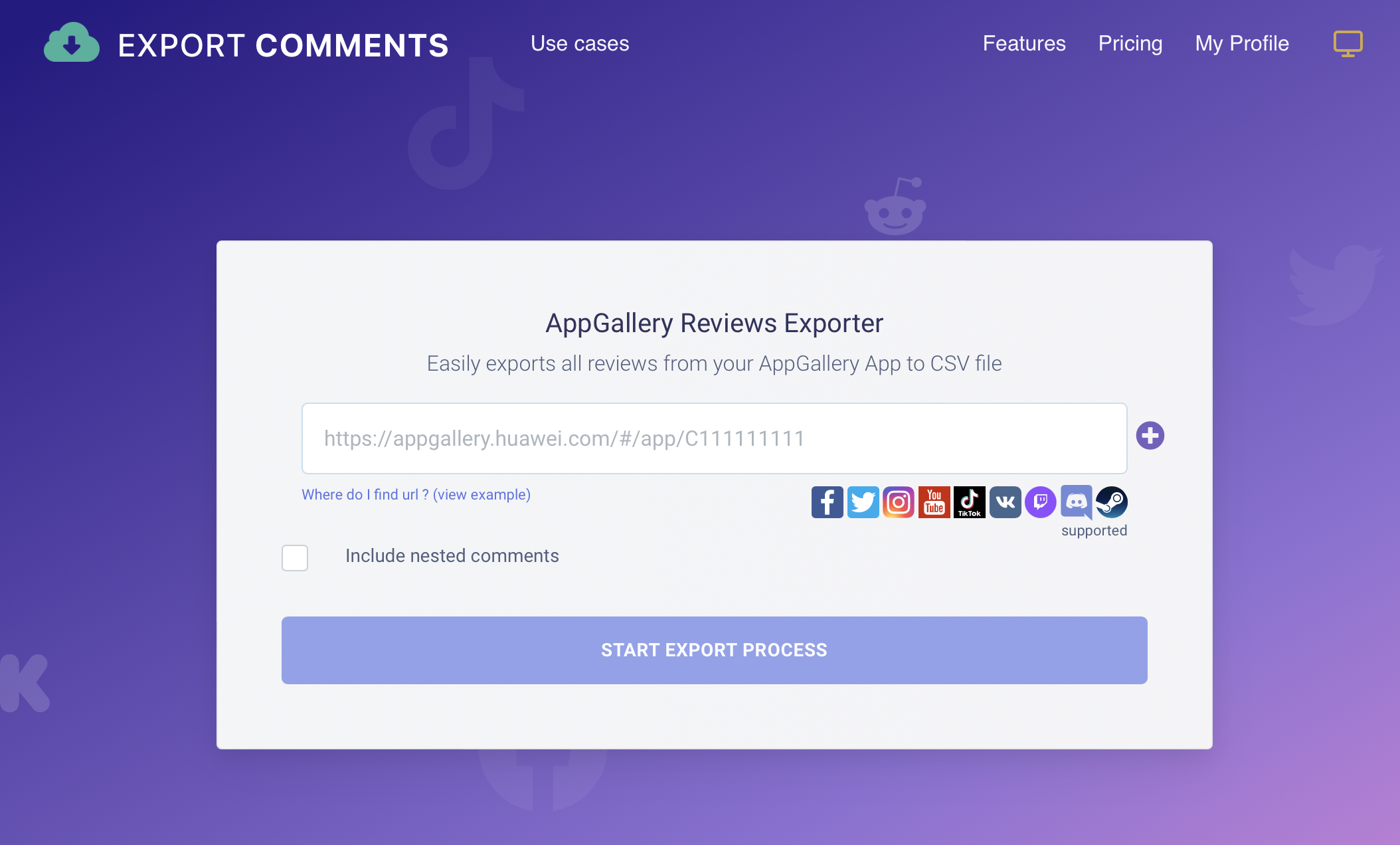 Once you have the App URL, you need to copy it to your clipboard. To do this, select the URL from the browser address bar and press Ctrl+C (or Command+C on a Mac) to copy it.
"Include nested comments" option will include any responses to the reviews in the export file.
Step 3: Start Export Process
Next, head over to AppGallery Reviews Exporter and click on the "START EXPORT PROCESS" button on the homepage. On the next page, select "Huawei AppGallery" from the list of app stores and paste the URL of your app in the designated field. Then, click on the "Export" button to start the export process.
The total count is refering to total ratings applied for the provided app and not the total reviews.
What content you get ?
👉 Author
👉 Date
👉 Rating
👉 Title
👉 Review
👉 Vote count
👉 Version

 Exporting your AppGallery Reviews using ExportComments.com is a straightforward and efficient process that can help you keep track of your app's performance in the market. By analyzing your reviews, you can identify areas where your app excels and areas where you need to improve. You can also respond to your reviews to show your customers that you value their feedback and are committed to providing excellent service. So, if you haven't already, create an account with ExportComments.com and start exporting your AppGallery reviews from Huawei store today!